Welcome ..
Ah, the wonders of the modern world.

An internet where you can demonstrate to all the world all of your vanities.
Contacts
Please feel free to send me e-mail. I'll be glad to hear from you.

I have a small collection of resources for some personal interests available. Useful additions are always welcome.

If you're interested in my technical skills and experience, take a look at my resumé(PDF).

If you're interested in my research credentials and publications, take a look at my curriculum vitae(PDF).
Snowman at the Beach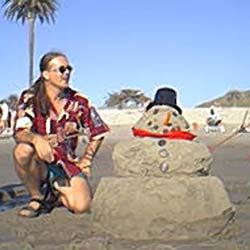 When you live in San Diego, and your sister gives you a snowman kit for Christmas, there's only one thing to do ..
Paragliding
I used to spend a lot of time paragliding.

Flying beneath a paraglider is a stunningly beautiful activity. You are exposed and open to the world. With a little luck, you can climb a thousand feet and have a unobstructed view of the world. Or you might have a hawk flying on your wing tip.

This picture was taken about 15 minutes before I crashed into the top of Mt. Cheam.
Pnambic Computing
Pnambic Computing provides consultancy services, primarily in software development. Past projects assisted small businesses that wished to have an Internet presence.
Compositional Program Synthesis
The notion behind compostional program synthesis (CPS) is that software development is best described as the process of adding capabilities to an existing structure. My Master's degree thesis and my company (Pnambic Computing) focus on this topic.